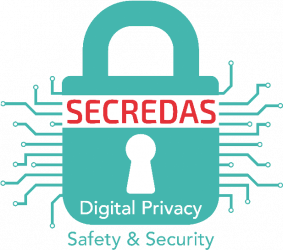 SECREDAS (Product Security for Cross Domain Reliable Dependable Automated Systems) is an European funding project with the aim to increase security, safety and privacy across the application domains road, rail and health. The purpose is to enhance the consumers' trust in connected and automated transportation and medical industries. For this, 70 partners from 16 countries - well balanced in research, industry and public sectors - collaborate to maximize the available expertise and generate application-specific solutions based on common technology elements.
The SECREDAS project started in May 2018 and ended in October 2021. It has received funding within the Electronic Components and System for European Leadership Joint Undertaking (ECSEL JU) in collaboration with the European Union's H2020 Framework Program (H2020 / 2014 - 2020) and National Authorities, under grant agreement n° 783119.
STACKFORCE is very proud to be a partner of the SECREDAS project since January 2019. We bring in and extend our long-term experience in developing innovative embedded software and network solutions to help taking the next step towards secure automated systems.
---
SECREDAS project Structure
The SECREDAS project is structured in eleven work packages, which build upon each others achievements. STACKFORCE's contribution has a main focus on WP 3 - Common Technology Elements, whereas there are participations in work packages 5 and 9 as well, due to the connection of requirements and synchronizations.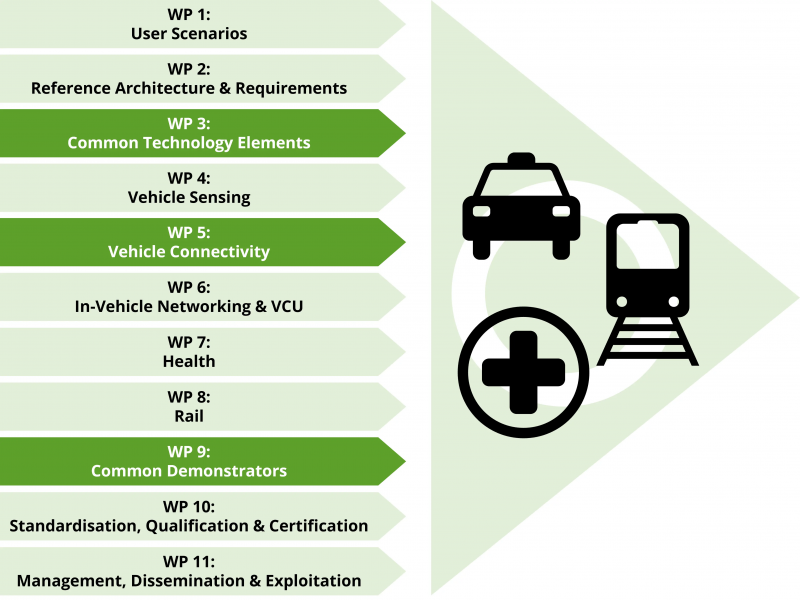 ---
STACKFORCE PARTICIPATION
The main objectives of WP 3 - Common Technologoy Elements are to develop and validate a number of common technology elements for the reference architectures and to develop a framework for multi-concerned security-safety verification and testing. Common technology elements will be provided / enhanced and design patterns created to support the development of technical security measures, maintaining functional safety, privacy and operational performance. STACKFORCE's main tasks within WP 3 are:
WP 3 - Common Technology Element Improvements
This task supports the objective of developing a number of Common Technology Elements (CTEs) for the reference architecture. The technical solutions solving similar problems in the different domains are gathered, adapted and - if necessary - newly developed cooperatively by partners having their main expertise in different industries. These CTEs are not limited to concrete implementations but can also contain best practices and protocol specifications.
STACKFORCE is contributing to the following CTEs:
CTE-01: Key-Distribution Protocols
CTE-08: Authentication and Authorization
CTE-12: Firewall
CTE-14: Security Testing Framework
CTE-16: Transport-Layer Security
CTE-17: OTA-Updates
WP 3 - Development of Design Patterns
This task describes the specifications of design patterns for development of safety, security and privacy solutions for the SECREDAS domains. Based on technology developments and concepts from other application fields, which already apply advanced security and privacy methods (e.g. IT-sector), and Common Technology Element (CTE) developments from SECREDAS.
The design patterns are one of the main outcomes of WP3, which are used from other work packages (WP4 - WP 8) of the SECREDAS project. They describe mainly the application of the mentioned CTEs.
Furthermore, an important relation is that between design patterns and the technical reference architecture. The technical reference architecture is an output of WP2 and gives an overview about main components and their interrelations within automated systems with focus on SECREDAS domains.
STACKFORCE has set up several sub-projects connected to the different CTEs within this tasks:
Secure commissioning for low power networks and devices:
Ensuring the security level between an application server and LoRaWAN® devices during the commissioning process
Secure serial interface for API transport protocol (Secure SATP):
Enhancing the serial communication protocol with more security features
Test System:
Enabling the testing and verification of the robustness, correct functionalities and security of communication systems
TLS libraries evaluation for low power embedded devices:
Researching the available TLS libraries at the market to understand the benefits and drawbacks of each library and to find a suitable one for the low power embedded devices
Firmware update over the air (FUOTA) and flexible firmware update management (ffuMgmt):
Providing a newer firmware version to low power wireless network devices when the device has already been deployed
Cross-WP contributions
WP 5 - Contribution with PDMFC for vehicle connectivity
PDMFC is one of SECREDAS key members that is actively working on multiple WPs. A good connection between STACKFORCE and PDMFC is the work of PDMFC in WP5 as PDMFC is working on the topic of "Vehicle status monitoring using LoRaWAN connectivity". STACKFORCE is experienced in wireless low power network and has the protocol stacks ready as products.
STACKFORCE provides the "mioty + LoRaWAN" dual stack to PDMFC to evaluate for the task of "Vehicle status monitoring using LoRaWAN connectivity". The background of providing a dual stack instead of a single LoRaWAN stack is to give more options to use different wireless technologies that are equivalent or better in some parameters.
WP 9 - Common Demonstrators
As part of WP 3, STACKFORCE developed a demonstrator on the topic of "secure commissioning" which was implemented in WP 9. Key exchange is an important factor for this task, as the commissioning is used to exchange keys, certificates etc. The demonstrator illustrates how the security level between an application server and LoRaWAN® devices during the commissioning process can be ensured.
---
Summary
In summary, STACKFORCE has created several sub projects to improve the SECREDAS CTEs listed above. We have made good progress in CTE development, as all projects have concepts and solutions. We also created a demonstrator which was implemented in WP 9. STACKFORCE gained valuable knowledge regarding energy efficiency for extended security approaches for wireless communication networks.
In the STACKFORCE domain, not only the safety, security and privacy factors are considered. We have added the low power capability and wireless network factors into consideration as well. Although in automotive domain there are several kinds of device types and networks that some do not need to take care about these two factors. In any case, the focus on low power capability and wireless networks will be applicable for the vehicle sensing units, traffic sensors, vehicle monitoring system etc., which are still part of the automotive domain. We strongly believe that our contributions will provide positive results to the SECREDAS project and partners.
The "Cross WPs" contributions also enabled STACKFORCE to explore other domains outside WP 3. In collaboration with other SECREDAS partners, it is a benefit to the output for SECREDAS project as we could collect more input and feedback from partners that are an expert in different areas, making the output product complete in all aspects.
---
Any Questions?
If there are any questions regarding our contribution to the SECREDAS project, don't hesitate to