STACKFORCE's core business focuses on the development and implementation of Protocol Stacks for various IoT use cases. Our stacks support modern wireless communication technologies like the well-proven wireless M-Bus protocol and the Low Power Wide Area Network technologies mioty®, LoRaWAN® and Sigfox. Our goal ist to support the optimal connectivity of your IoT network! Our stack solutions can be integrated directly to your products, as components to already existing or new to establish wireless networks. For an easy integration into and operation of your network, we also offer some matching software solutions and some hardware and tools.
YOUR BENEFITS WITH A STANDARD PROTOCOL STACK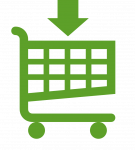 The different Standard Protocol Stacks are available directly or as variants at very short notice and are ready for immediate use.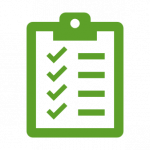 Due to a variety of applications and customers, our Standard Protocol Stacks are extensively tested and easy to integrate.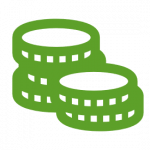 With different license packages, software purchase is financially easy to plan and affordable even for smaller companies.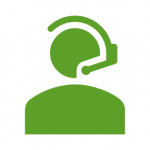 We offer professional support and additional services to the product, which saves your resources and improves predictability.
PROTOCOL STACK ARCHITEcTURe
FUNCTION OF A PROTOCOL STACK
A protocol stack enables devices such as sensors or meters to transmit data via radio. The software is called Protocol Stack because it is divided into layers for better delimitation and maintainability. Each layer has a special function, depending on the respective technology-specific protocol: e. g. the correct channel access according to regulations, the addressing of recipients, the formatting of user data etc.
The Protocol Stack is located invisible to the eye on a microcontroller inside the respective device. Via a wireless chip or a wireless interface integrated in the microcontroller, it enables the wireless transmission (e. g. using Low Power Wide Area Network (LPWAN) technologies) of the read-out device data to an IoT network. As a result, the data of a wide range of devices is available to the end user even over longer distances at usage-adapted intervals up to real-time.
Fields of application for protocol Stacks
Protocol Stacks aim at the automation of previously manually controlled, mostly operational processes. Since automation takes place in every area, Protocol Stacks have a wide range of application and can be customized for a variety of use cases. Numerous processes can be simplified, better controlled, and speeded up, thanks to the large-scale networking of devices that communicate independently with each other.
Therefore, software-based communication can be used in any area. The application scenario determines the appropriate software. With our standard products we enable a simple and convenient introduction to equip your IoT network with connectivity.
Possible Application Scenarios
Meter remote readout (water, gas, electricity, heat,…)
Leakage detection and alarming
Condition monitoring
Predictive maintenance
Oil-/gas field exploration and monitoring
Machine monitoring
Infrastructure surveillance
General Iot Use Cases for protocol stacks
Single- or Multi-Stacks?
Our standard stacks are directly availabe protocol stacks - designed with one or more radio technologies for different platforms. We offer our standard stacks as Single-Stack, based on a single technology, or as Multi-Stack, where you can switch between a random number of radio standards. Flexibility and quick reaction are key elements for modern and efficient IoT networks. With our Multi-Stacks, we provide an innovative solution for combining several communication technologies for wireless data transmission in just one stack. Switch between wireless M-Bus and / or LPWAN technologies like mioty®, LoRaWAN® and Sigfox during runtime.
Availability of Standard Stacks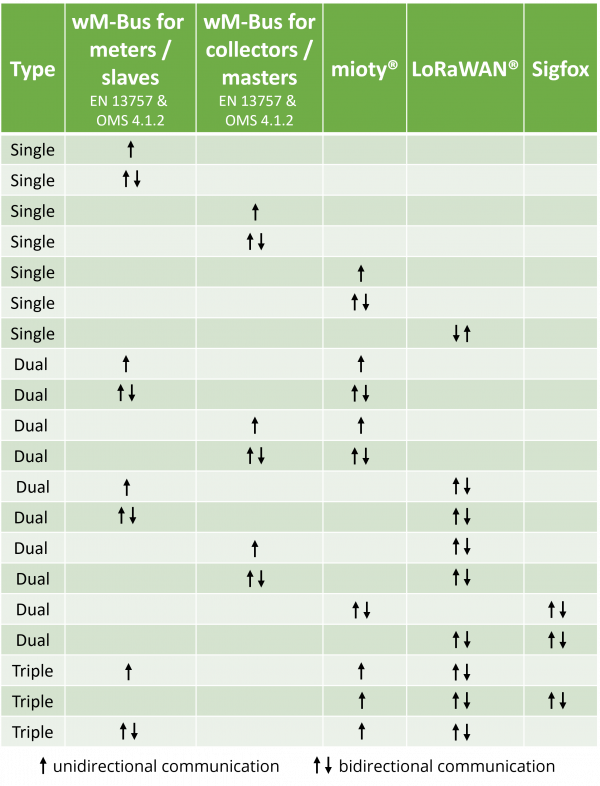 One-chip vs. two-chip-design
In order to equip a device with a radio technology, it is important to pay attention to the details depending on the application. For example, if the device application is used on the same microcontroller as the communication software, the resources of the microcontroller and its periphery must also be shared among each other. This may be a disadvantage for very time-critical sensor applications. In general, there are three ways to run the application:
with a Communication Module
with the One-Chip-Design
with the Two-Chip-Design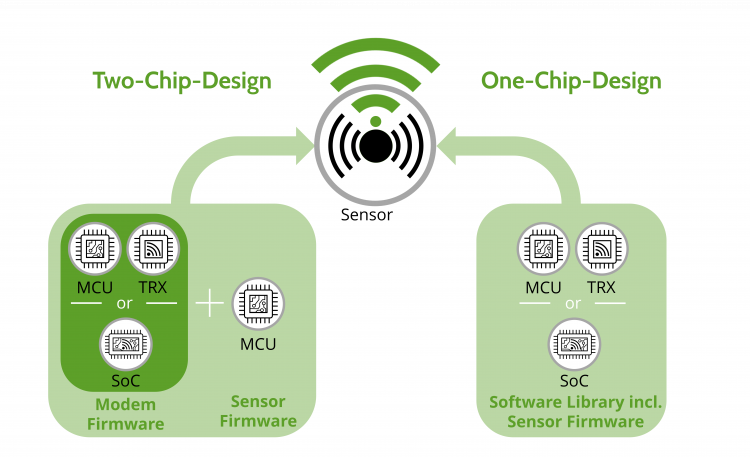 COMMUNICATION MODULE
The communication module takes over the communication with the network of the chosen Technologie. So it is possible to equip an existing sensor circuit with a radio interface without major modifications if there is sufficient space available in the enclosure.
The communication module is then connected to the sensor circuit via various interfaces, such as UART or SPI. If the communication module is selected, there are three options:
use of a pre-programmed radio module,
using the Protocol Stack as firmware in the modem version and
using the Protocol Stack as a software library and developing custom firmware for the radio module.
The main advantage of this approach is the low development effort and the low risk of surprises when the device is certified.
TWO-CHIP-Design
An alternative to the communication module is the integration of a dedicated microcontroller together with a radio transceiver IC or a system-on-chip, which is used specifically for communication.
In terms of architecture, the two-chip approach is the same as the communication module, but this variant is more space- and cost-saving. On the software side, the two-chip approach is equally simple compared to using one communication module. However, the effort regarding the circuit is somewhat higher since a corresponding circuit board must be developed and thus the effort for product certification also increases.
ONE-CHIP-Design
The most integrated approach is the use of a technologie compliant circuit on which the sensor application can be run. This variant requires only one module for the application and the communication software. A software library will be integrated into the own sensor firmware.
With this library, the developer uses a complete implementation of the transmission protocol and
controls the wireless transceiver IC or the wireless transceiver on the radio part of a system-on-chip.
The advantage of this approach are obviously the savings in hardware costs as well as in the minimal space requirement of the various options. However, the one-off costs for the development of this approach are significantly higher as a separate and often product-specific hardware design has to be developed.
---
Protocol STack Package
The Protocol Stack Package is delivered with a pre-compiled stack library, hardware-specific drivers, a serial interface, a power management and the two app folders "Example" and "Modem". While Example includes a suggestion of creating your own firmware, which shows how to integrate the stack library into your own application software, the app Modem allows you to create your own modem firmware using the supplied serial interface (e. g. UART, SPI, I2C, …) and power management.
Therefore, it is possible to implement both chip architectures with the supplied Protocol Stack Package:
To use the Protocol Stack within a One-Chip-Design (the Protocol Stack runs on the same microcontroller as the application), the app Example is required, and thus only the stack library.
If you follow a Two-Chip-Design (the Protocol Stack is to run on a communication controller and the application is to run on a host controller), the app Modem can be accessed. This makes it possible to create your own firmware for the communication controller using the supplied serial interface and the power management. The Protocol Stack is then accessed via the host controller.
Microcontroller and system-on-chip
Standard Protocol Stacks are available for multiple hardware platforms, consisting of either a microcontroller (MCU) in conjunction with a single chip radio resp. transceiver (TRX), or a system-on-chip (SoC) silicon. For the mentioned hardware below, the Protocol Stacks has been tested and optimized. In general, any other hardware is possible to use. However, there is an additional effort to ensure the compatibility of the Protocol Stacks with the selected hardware. Therefore, STACKFORCE offers additional platforms. Depending on the radio technology, bidirectional as well as unidirectional communication is possible, but not all radio modules currently available on the market support both communication variants. Please note that not every microcontroller or radio transceiver is compatible with every Protocol Stack we offer. Contact us for all possible hardware!
MICROCONTROLLER / SYSTEM-ON-CHIP
STMicroelectronics
STM32WLE/WL55, STM32L0 family
Texas Instruments
CC1310, CC1350, CC1312, CC1352R
Silicon Laboratories
EFM32G210, EFR32FG14, EFR32FG23
RADIO TRANSCEIVER
STMicroelectronics
S2-LP
Semtech
SX1272, SX1276, SX1261, SX1262, SX1268
Silicon Laboratories
Si4463E
NOT SURE A STANDARD STACK MEETS YOUR REQUIREMENTS?
Our standard stacks include basic components that are suitable for a variety of projects. Small adjustments, e. g. to the MCU Driver, are possible as part of a standard stack. Any changes beyond that, such as customizations of a particular layer within the stack, can no longer be reflected in the standard version. We will then develop a custom stack for you that is specifically tailored to your project.
You need special adjustements to the Stack, another combination of technologies, or another platform for your desired Stack? Just tell us your demands and we can develop your personal Custom Stack, fitting to your requirements and ideas. On request we offer for example:
additional hardware drivers and porting to further hardware platforms
adaptations and optimizations to hardware, e. g. application specific low-power operation
customization and extensions of interfaces
customization and extensions of protocol(s) itself
support for additional protocols / specifications
…