The massive iot technology
The miniaturized Internet of Things (IoT) system mioty® was developed by Fraunhofer IIS. With its asymmetric transmission method, mioty® represents an innovation in the field of wireless networks. The technology uses values from simple sensor nodes and a complex receiver.
In the area of Low Power Wide Area Network (LPWAN), mioty® technology is designed for massive IoT networks. mioty® is characterized by low energy consumption and a low data volume to be transmitted with a high number of network nodes at the same time. The innovative telegram splitting technology achieves a high level of interference resistance and thus a high level of reliability in data transmission.
Telegram Splitting
transmission of data subpackets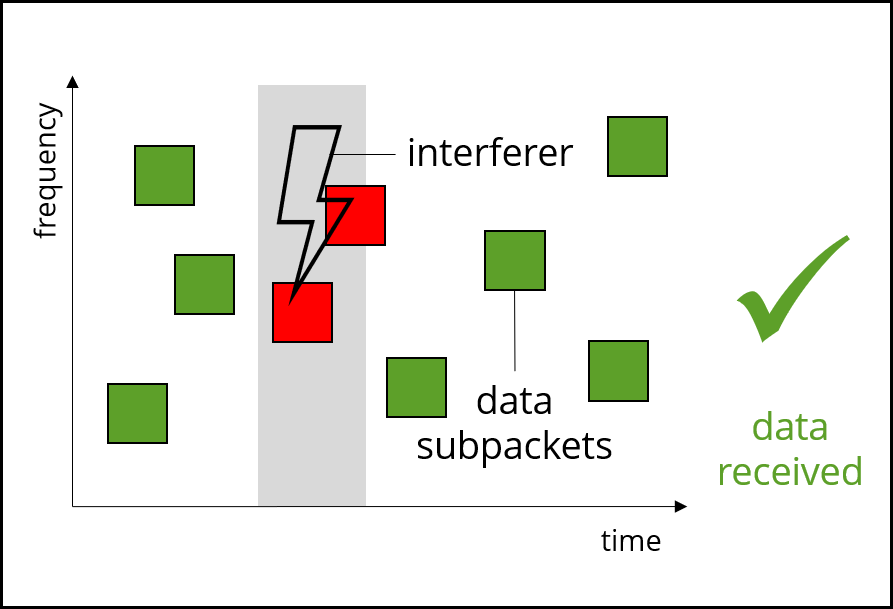 mioty® At a glance
New standard:
ETSI standard TS 103357
Reliable:
Highly resistent to interference due to the telegram-splitting technology
Low Packet Error Rate (PER):
The message is split into several short sub-packets at PHY level – a PER of less than 1% is achieved
Long range:
Up to 15 km transmission range in flat terrain and up to 5 km transmission range in urban terrain
Scalable:
Up to 1,5 mil telegrams per day
Low power:
Up to 20 years battery life
Mobile:
Operation at up to 120 km/h velocity
The mioty® Alliance
As a founding member, STACKFORCE has played an active role since the establishment of the mioty® Alliance in 2020. The mioty® Alliance currently consists of more than 30 members and is growing steadily. We are actively involved in shaping this promising group and participate in several functions of the Alliance:
Technical Advertisement at the Executive Board
Business Development Committee
Technical Committee
Marketing Committee
Do you need advice for mioty® specifications? We offer special trainings for this purpose.

Why STACKFORCE for mioty®
We have accompanied the development of this new technology right from the early beginnings.
We are founding member and active contributor to the mioty® Alliance.
We have a long-term experience in the development and implementation of LPWAN technologies.
We have been supporting the mioty® technology since its inception and have taken an active role in the mioty® Alliance. Thanks to this work, we have a high level of experience in all facets of the mioty® system and can therefore support you in your project in the best possible way.
In addition, we offer individual trainings in which we immerse ourselves in technical practice or teach you the contents with a mix of commercial and technical considerations.
Development, Customization & Tools
If you want to equip your products with mioty® connectivity or use the technology for your IoT project, we are your partner. From initial training, development services, support and tools (e. g. test and monitoring solutions) to complete product development, we support you in all aspects.
Our mioty® related products