mioty® brings a breath of fresh air to the long-established LPWAN landscape. The young technology uses a promising approach that ensures robust data transmission even under difficult conditions. Using the unique Telegram Splitting technology, information is transmitted effortlessly even in dense data crowds. The well-known and proven advantages of common Low Power Wide Area Network (LPWAN) technologies are extended by massive scalability and unprecedented reliability in stationary and mobile data transmission. Thus, mioty® has the potential to take a leading role in the market of modern (I)IoT wireless technologies in the future.
Specification and functionalities
The mioty® protocol is standardized by the standards organization ETSI under the designation TS 103357, and was designed for the operation of endpoints in accordance with this standard. mioty®, like the LoRaWAN® protocol for example, uses the license-free frequency spectrum, which in Europe is 868 MHz. This means that there are no transmission fees for the user, which in turn is reflected in significantly lower cost structures compared to the use of licensed frequency bands.
Since anyone can set up their network easily and inexpensively in a license-free spectrum, the frequency bands resemble a data highway with very few rules, which makes data transmission susceptible to interference. This is exactly where mioty® plays to its great strength. Through the innovative technology of telegram splitting, the data to be transmitted is divided into several sub-telegrams, which are not only transmitted on different frequencies, but also staggered in time. In this way, data can still be transmitted successfully even if up to 50 % of the sub-telegrams are lost. The mioty® protocol thus reduces the packet error rate (PER) many times over.
The architecture of a mioty® network consists of many simple sensor nodes that communicate with a powerful receiver station via standard radio chips. The very stable data transmission of up to one million transmitters and up to 1.5 million messages per day can be ensured with only one base station. The nodes function reliably not only in a stationary environment, but also in mobile operation at speeds of up to 120 km/h. With very efficient energy consumption, battery lifetimes of up to 20 years can sometimes be achieved. This is made possible by the very short transmission times of individual sub-telegrams, which can further reduce the energy consumption per transmitted bit.
Application fields of mioty®
As with all LPWAN technologies, the areas of application for mioty® technology are diverse and are defined by the specific application scenario. Due to the very robust transmission and the large achievable ranges, mioty® is particularly predestined for applications under extreme conditions.
At the top of the list of possible use cases is the monitoring of large plants with a large number of devices, which are not infrequently located in areas that are difficult to access. For example, mioty® plays a leading role in Industry 4.0 in the monitoring of production machines. The focus here is on the transmission and evaluation of switching and operating states to ensure predictive maintenance or communication between machines (M2M communication).
mioty® also scores in urban areas, as the technology enables an enormous density of nodes per base station. This makes the technology particularly interesting for applications where the number of installation options for base stations is very limited, but the number of possible end devices per base station is almost endless. Thus, in a smart city, mioty® is particularly suitable for wireless remote meter reading and consumption control in smart metering applications, for monitoring environmental parameters such as air quality, or for monitoring utility networks and traffic or parking information. There are plenty of other application areas for mioty®.
The mioty® Protocol Stack
STACKFORCE's mioty® Protocol Stack is a highly efficient and especially robust solution for both Low Power Wide Area Networks (LPWAN) and concentrated industrial networks. As a founding member of the mioty® Alliance, STACKFORCE is very familiar with the technology and we are in regular exchange with the Alliance members, so that we continuously optimize and develop our mioty® Stack.
We sell the mioty® Protocol Stack as a finished product in our Standard Stack portfolio. Fort hat reason, the stack is ready for immediate use. Small adaptations by our developers are possible within the scope of the standard – for special needs we also develop the mioty® Stack as a completely customized variant. We have already successfully implemented several projects with the newcomer mioty®.
For those who want to combine the new technology with the well-tried, STACKFORCE offers the advantage of being able to opt for a Multi-Stack. In addition to mioty®, we also offer LoRaWAN®, Sigfox or Wireless M-Bus in our Standard Protocol Stack portfolio. With a Dual or Triple Stack, a change of technology is possible at any time – even during runtime. Depending on external conditions, the devices can thus be individually controlled.
YOU WANT TO EQUIP YOUR DEVICES WITH mioty® CONNECTIVITY?
Our mioty® Protocol Stack is easy to implement in existing devices. Using a compatible microcontroller with wireless chip or integrated wireless interface, you can enable your devices to transmit data via mioty® or in combination with other LPWAN technologies. Thanks to our experience with mioty®, you have a reliable partner at your side with professional support. The Protocol Stacks result in competitive products that are easy to install and maintain.
If you fancy an in-house development, please study the whiteboard. Does it look familiar to you? Although we are passionate developers and understand your intentions, our experience in this field has taught us that, unfortunately, in-house developments can often be a bottomless pit – especially in the still young and fast-moving field of wireless communication standards and technologies. This is also the reason why we have specialized fully in communication solutions for embedded devices.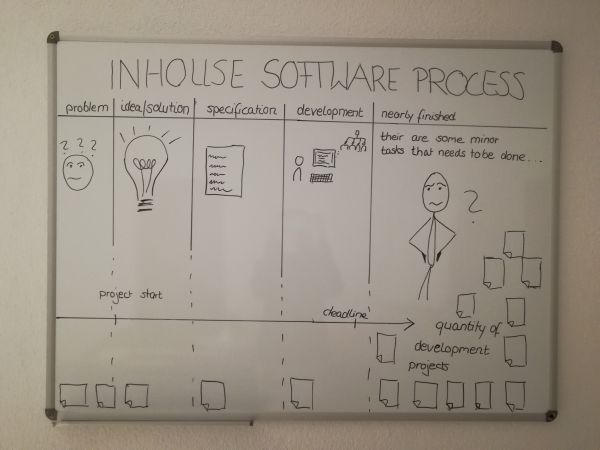 Based on our experience in developing communication solutions, we have decided to offer some standard products off the shelf – including the mioty® Stack. For you as a customer there are clear benefits:
The stack is available directly or as a variant at very short notice and ready for immediate use.
Due to a variety of applications and customers, our mioty® Protocol Stack is well tested and easy to integrate.
With different license packages, software purchase is financially easy to plan and affordable even for smaller companies.
STACKFORCE provides professional support and additional services to the product, which saves your own resources and improves its predictability.
You would like to learn more about mioty®? Then contact us or read our next article about the technical details of the mioty® stack: What is included? Which standards does the stack implement? What features does the stack have? ...
---