After an intensive development phase, we can now present our Wired M-Bus Stack for meter, which complements the Wireless M-Bus offering with a high-performance, wired solution. The release of the Wired M-Bus Stack for collector will follow in August, 2022. The stack enables remote reading of water, electricity, gas or heat meters as well as data collection and transmission of sensor values such as those used in smoke detectors or to determinde temperature, in a wired M-Bus network. Once set up, an M-Bus network is extremely low-maintenance and enables very fast data collection and remote meter reading. A classic application example is remote meter reading in properties where many meters are installed comparatively close to each other. 
Wired M-Bus – the robust partner
STACKFORCE's Wired M-Bus Protocol Stack implements all protocol elements required for M-Bus compliance, as well as most of the typical and useful optional components. The stack is constantly optimized to ensure low overhead, as well as excellent modularity and scalability, while maintaining a high level of functionality. Standardized in the European standard EN 13757 and specified according to OMS 4.1.2, M-Bus is well known in many parts of the world and is a common technology to implement projects, mainly in Europe, quickly and easily.
Once a meter or sensor is equipped with a Wired M-Bus Stack and integrated into the network, all measured values are available within a very short time. Absolute values such as meter readings can be transmitted, as well as momentary values of power, flow or temperature can be queried on a regular basis. Due to the wired solution, building penetration is no problem and meter or sensor values are reliably transmitted even with underground installed devices and in hard-to-reach areas.
Stack features
The Wired M-Bus stack implements five layers: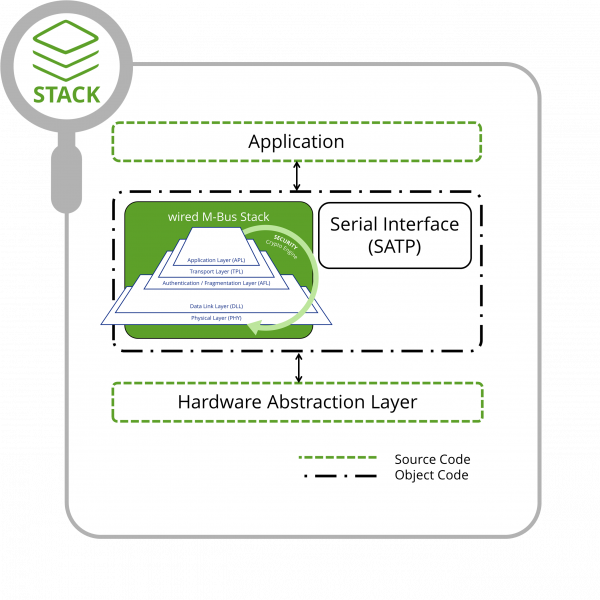 By default, we offer flexible interfaces such as an API for the application layer in single chip solutions, an API for externalizing security functions, and a well-designed Hardware Abstraction Layer (HAL). All API functions are alternatively available via an included serial interface implementation that supports UART, SPI and other ports and offers minimal overhead. For particularly sensitive applications, the serial interface offers the use of AES encryption modes. Likewise, any type of read-only memory such as EEPROM, Flash or MRAM is supported. If enabled by the platform, the stack supports hardware acceleration as for AES decryption and encryption.
Learn more about the Wired M-Bus Stack or about M-Bus technology in general. Please contact us if you have any questions!
---