LoRaWAN® is a promising technology for long-range radio networks, transporting small amounts of data over long distances. The application scenarios range from small integrations such as monitoring a "milk can" to large industrial plants with extensive monitoring of the entire plant. Thus, it is impossible to determine which use cases are best suited for communication with LoRaWAN®, the specific application determines it. Just this: with a recognized standard and extensive networks, projects with LoRaWAN® can be realized almost anywhere in the world – even without setting up your own network.  
Specification and functionalities 
A clear advantage of LoRaWAN® is the fact, that it is based on an open standard. Many components are open source. This makes it very easy and inexpensive to set up and use your own network. LoRaWAN® also scores with low maintenance costs for the network, making the technology suitable for many applications. However, if you prefer to outsource the costs of installing and maintaining a network, this is not an obstacle to being able to use LoRaWAN® anyway. Many telecommunications operators use LoRaWAN® and offer the technology as part of their service offering in many countries around the world. This makes it possible to access public networks and connect the devices there. 
Thanks to the energy-efficient dispatch of small data packets, LoRaWAN® achieves battery life of several years. Communication can be unidirectional as well as bidirectional. End-to-end security provides the necessary data security during the transfer process, which means that communication via LoRaWAN® can basically be classified as very secure.  
The network architecture corresponds to a star-of-star topology. The messages between end nodes (sensors, meters) are forwarded via gateways to a central network server. This in turn forwards the data to the application server, and thus to the user's data processing, who receives the data centralized, if necessary, also on his dashboard.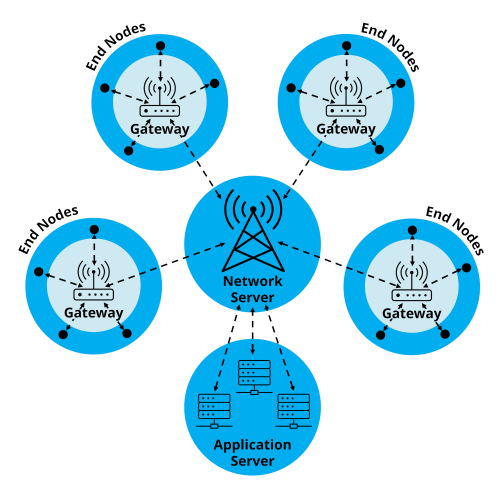 Application fields of LoRaWAN®
Due to the low data rates that can be sent via LoRaWAN®, the technology is particularly suitable for the transmission of condition data from machines, devices and sensors. Basically, the range of application scenarios is broad – not to say almost infinite. LoRaWAN® is used for example to monitor the condition of machinery in large industrial plants, for fleet management in logistics, for monitoring infrastructure such as parking spaces or waste management in cities and in many other areas.
To make LoRaWAN® even more concrete, imagine a farm with animals and fields in rural areas. Few gateways are sufficient to provide comprehensive network coverage. Different data are collected via sensors so that processes can be optimized afterwards. In the scenario of Smart Farming, it is for example possible to monitor the pasture fences automatically in order to react quickly if the electrical circuit is interrupted and there is a risk of animals escaping, or to control the water supply in the feeders automatically.
The LoRaWAN® Protocol Stack
The LoRaWAN® Protocol Stack from STACKFORCE is an advanced development of the Open Source LoRaWAN® Stack. It is designed for high-performance industrial use in complex environments with high security requirements and maximum performance. A 500-member LoRa Alliance regularly monitors the LoRaWAN® standard. As an Alliance member, STACKFORCE is always up-to-date to implement customizations, enhancements and performance optimizations to its own LoRaWAN® Stack for its customers.
With a very good range even in the urban environment and a good building penetration, the LoRaWAN® Protocol Stack is suitable even for hard-to-reach areas and deep built-in devices. Once a meter or sensor is equipped with LoRaWAN® technology, all measured values are available within a short time or within the previously defined transmission interval. Absolute values such as the respective meter states are transmitted, but also momentary values of power, flow or temperature can be queried regularly.
If you don't want to rely on a technology for your devices, you can also opt for one of our Multi-Stacks. Besides LoRaWAN® we also offer mioty®, Sigfox or wireless M-Bus in our Standard Protocol Stack portfolio, more protocols will follow. With a Dual or Triple Stack, it is possible to change the technology at any time – even during runtime. Depending on external conditions, the devices can be individually controlled.
You want to equip your devices with LoRaWAN® connectivity?
Our LoRaWAN® Protocol Stack is easy to implement in existing devices. Using a compatible microcontroller with wireless chip or integrated wireless interface, you can enable your devices to transmit data via LoRaWAN® or in combination with other LPWAN technologies. Thanks to our many years of experience with LoRaWAN®, you have a reliable partner at your side with professional support. The Protocol Stacks result in competitive products that are easy to install and maintain.
If you fancy an in-house development, please study the whiteboard. Does it look familiar to you? Although we are passionate developers and understand your intentions, our experience in this field has taught us that, unfortunately, in-house developments can often be a bottomless pit – especially in the still young and fast-moving field of wireless communication standards and technologies. This is also the reason why we have specialized fully in communication solutions for embedded devices.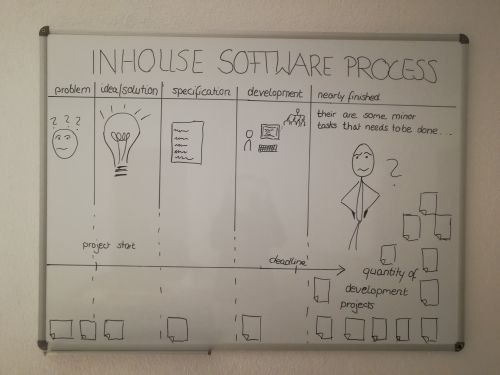 Based on our experience in developing communication solutions, we have decided to offer some standard products off the shelf – including the LoRaWAN® Stack. For you as a customer there are clear benefits:
The stack is available directly or as a variant at very short notice and ready for immediate use.
Due to a variety of applications and customers, our LoRaWAN® Protocol Stack is well tested and easy to integrate.
With different license packages, software purchase is financially easy to plan and affordable even for smaller companies.
STACKFORCE provides professional support and additional services to the product, which saves your own resources and improves its predictability.
Please contact us for more information. And if we don't have you on the hook yet, check out our next post about technical details on our LoRaWAN® Stack Package: What's included? What standards does the stack implement? What hardware requirements are there? …
---