Whether in the areas of smart metering, smart farming, smart industry, smart city or smart home – every company will sooner or later deal with the subject of digitalization. It does not always have to be companies with large industrial plants and numerous process sequences that want to streamline their processes. Even small businesses benefit from software-supported automation to reduce production costs or increase profitability and efficiency.
With our software solutions (Protocol Stacks), we aim to drive digital transformation for companies of all sizes and industries, and with our standard products we enable a simple and convenient introduction to equip your IoT network with connectivity.
Protocol Stacks – we make sensors speak
In order to enable devices such as sensors or meters to transmit data via radio, software is needed to do this. And that's what a Protocol Stack does. A Protocol Stack lets a sensor or meter "speak". The software is called Protocol Stack because it is divided into layers for better delimitation and maintainability. The sum of the layers of the respective protocol is shown in a stack. Each layer has a special function, depending on the respective technology-specific protocol: e. g. the correct channel access according to regulations, the addressing of recipients, the formatting of user data etc.
The Protocol Stack is located invisible to the eye on a microcontroller inside the respective device. Via a wireless chip or a wireless interface integrated in the microcontroller, it enables the wireless transmission (e. g. using Low Power Wide Area Network (LPWAN) technologies) of the read-out device data to an IoT network. As a result, the data of a wide range of devices is available to the end user even over longer distances at usage-adapted intervals up to real-time.
Fields of application for Protocol Stacks
Protocol Stacks aim at the automation of previously manually controlled, mostly operational processes. Since automation takes place in every area, Protocol Stacks have a wide range of application and can be customized for a variety of use cases. Numerous processes can be simplified, better controlled, and speeded up, thanks to the large-scale networking of devices that communicate independently with each other. The monitoring of large plants takes place at a central location, which also helps to ensure clarity and prevents data loss. Resources can also be used in a targeted manner to avoid shortages, plan maintenance operations ahead – as errors and wear are directly displayed – or monitor machines and entire infrastructures. A larger information base increases the plannability of processes and also leads to more efficiency.
In the operational process, this means, for example, concrete savings in working time in the selection process, as there are generally fewer manual tasks to be performed. In this way, hazardous work, such as reading meters at great height or depth, is also reduced to a minimum. In addition, smart data transmission can enable new business models and additional services can be offered.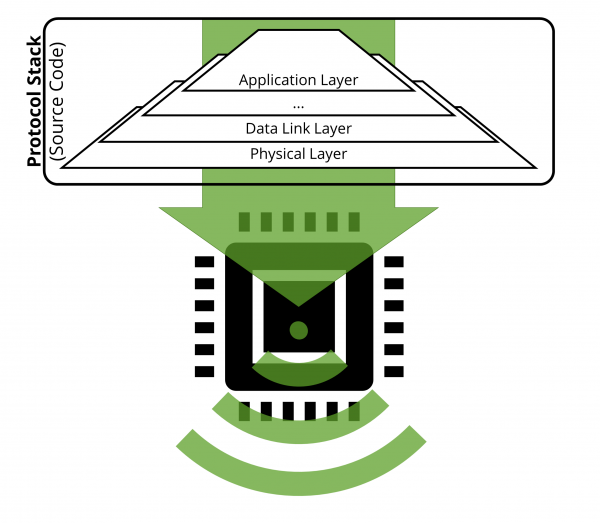 Protocol Stacks at a glance
Our standard portfolio currently consists of several single Protocol Stacks and Multi Stacks. The Multi Stacks combine different combinations of Single Stacks or Protocol Stacks from third parties. The Multi Stack combines the different combinations of the Single Stacks. The Stacks support modern, radio-based communication technologies such as the proven Wireless M-Bus standard and the Low Power Wide Area Network technologies mioty®, LoRaWAN® and Sigfox.
The Wireless M-Bus Stack is the evergreen among the Stacks. It has been optimized many times and is characterized by its excellent modularity and scalability with a high degree of functionality. "Safety first" is the credo of our Industrial LoRaWAN® Stack. Designed for high-performance industrial use with high demands on safety and maximum performance, it is a guarantee of success for complex environments. Finally, our newcomer, the mioty® Stack, sets new standards in the field of wireless data transmission with the innovative technology of telegram splitting. The question which Stack should be used for one's own IoT project is ultimately answered by the use case. If you want to be flexible, you opt for the Multi Stack, which combines several technologies in one Stack.
Buy software or develop it yourself?
As a software manufacturer, we certainly have an interest in software solutions being purchased and not being developed in-house. However, there are also significant advantages for the user, buying software from companies with many years of experience:
Due to a wide range of applications, the Protocol Stacks are well tested and are generally more robust and functionally more comprehensive than an in-house development.
Thanks to different license packages, which can be selected to suit the respective business case, software purchase is financially easy to plan and affordable for smaller companies. There are no unexpected costs due to delays, development, or porting problems.
The procurement of updates is easier and better to plan than with custom-built solutions.
Future-oriented communication standards are used, the portfolio is consistently expanded, and new technologies are adapted, integrated, or implemented.
Through the support offered, the customer receives help with decisions about additional protocols and options or questions about specifications, certification, configuration, etc.
Customer-specific changes and USPs (even deviating from the standard) can be planned and effectively implemented by the professional at any time.
Requested Stacks are available almost immediately.
The list can be extended a little further. However, the core advantages are mentioned, so the decision to buy software should not be difficult.
Standard or Custom?
In the end, the only question to be asked is whether a standard solution is sufficient for your own IoT project. Our Standard Stack solutions can be integrated directly into products and used as components for existing or new networks. They offer the quick and easy way to equip your devices with wireless connectivity. Off the shelf, the software is directly available, versatile to use and is not prone to errors due to constant developments.
Still not convinced, because the standard offers too little freedom? With our individual custom solutions, we treat your project uniquely and develop together with you the software solution that suits you. Please contact us!
Find out more about our software solutions and how they can be used. In the next article we want to go into a use case from the field of smart metering, which illustrates the purpose of Protocol Stacks.
---