The field of consumption data measurement can hardly avoid dealing with the topic of Wireless M-Bus (wM-Bus). For more than a decade, wM-Bus has been the standard used to implement remote meter reading of water, electricity, gas or heat meters. However, thanks to the OMS Group, wM-Bus can do more. It is also a common standard for data collection and transmission of sensors, such as those used in smoke detectors or to determine temperature. In short, with a recognized standard, projects with wM-Bus can be implemented almost anywhere in the world.
Jump straight to the benefits of STACKFORCE >>
Specification and Functionalities
Basically, the M-Bus is standardized in the European standard EN 13 757, which specifies the use of frequencies in the 868 MHz range and is approved in Europe. However, thanks to the OMS group and its specification for the use of additional frequencies (e. g. 433 MHz for South America, Australia or the Middle East), wM-Bus is well known beyond the borders of Europe in many parts of the world. The EN 13757 family of standards includes quite a lot of features and options, but not all of them can be used at the same time or meaningfully and there are also gaps in the specification at one point or another. Therefore, it is advisable to follow the well-known and internationally oriented OMS specification – based on EN 13757.
In addition, the OMS Group is also responsible for consistently improving and expanding the specification with new solutions and technologies, so that current and future application scenarios can be optimally implemented. In many places, wireless networks can be set up without any problems. The Wireless standard is particularly suitable for battery-powered devices that ensure battery life over several years due to the low energy consumption. The radio connections transmit data from sensors or meter readings of smart meters to so-called "other devices" which are typically referred to as data collectors or data concentrators (according to EN 13 757). wM-Bus Radio connections can communicate both unidirectional (if only meter readings are read) and bidirectional (if values are written to the meter or sensor or functions are queried, for example).
wM-Bus is basically built with a star topology. In most cases, several hundred meters/sensors can be connected to one data collector. The data collector then transmits the data to the network operator's application server, e.g., by means of onward communication technology (WAN or WWAN), e. g. mobile communications. The major advantage of wM-Bus or OMS is the standardization of the protocol, which has been successfully carried out in all protocol levels including the data format. This allows not only interoperability, but also a very easy integration of devices into the network, independently of the manufacturer.
The Wireless M-Bus Protocol Stack
The Wireless M-Bus Protocol Stack from STACKFORCE implements all protocol elements required for compliance with wM-Bus as well as most of the typical and useful optional components. The stack is constantly optimized to ensure low consumption, excellent modularity and scalability while providing high functionality.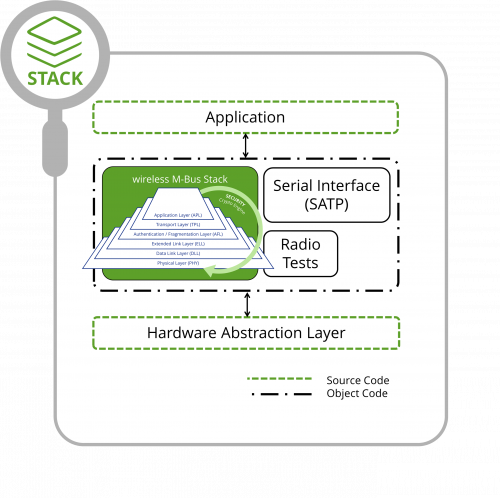 Once a meter or sensor is equipped with wM-Bus technology, all measured values are available within a short time or within the previously defined transmission interval. Absolute values such as the respective meter readings can be transmitted, but also momentary values of power, flow or temperature can be queried regularly.
The ranges of wM-Bus vary from a few kilometres in rural areas to a few hundred metres in the densely built-up urban environment to a few metres inside buildings. If you want more building penetration and still want to rely on the proven wM-Bus standard, then STACKFORCE is the right place. With the wM-Bus Protocol Stack, you benefit not only from the widely used wM-Bus protocol, but also from LPWAN technologies such as LoRaWAN® or mioty®.
Our wM-Bus stack can be operated as a pure wM-Bus stack and also as a "M-Bus-over-LoRaWAN®" or "M-Bus-over-mioty® stack." In other words, for the transfer of the protocols, the better penetration and range of the LPWAN technologies is relied upon, which is a great advantage especially for underground installed devices and in hard-to-reach areas. Where no LoRaWAN® or mioty® network is available, the still widespread "walk-by" or "drive-by" reading can be continued, which is achieved by the higher data rates of native Wireless M-Bus compared to LPWAN technologies.
You want to equip your devices with Wireless M-Bus connectivity?
Our wM-Bus Protocol Stack is easy to implement in existing devices. Using a compatible microcontroller with wireless chip or integrated wireless interface, you can enable your devices to transmit data via wM-Bus or in combination with LPWAN technology. Thanks to our many years of experience with Wireless M-Bus, you have a reliable partner at your side with professional support. The Protocol Stacks result in competitive products that are easy to install and maintain.
If you fancy an in-house development, please study the whiteboard. Does it look familiar to you? Although we are passionate developers and understand your intentions, our experience in this field has taught us that, unfortunately, in-house developments can often be a bottomless pit – especially in the still young and fast-moving field of wireless communication standards and technologies. This is also the reason why we have specialized fully in communication solutions for embedded devices.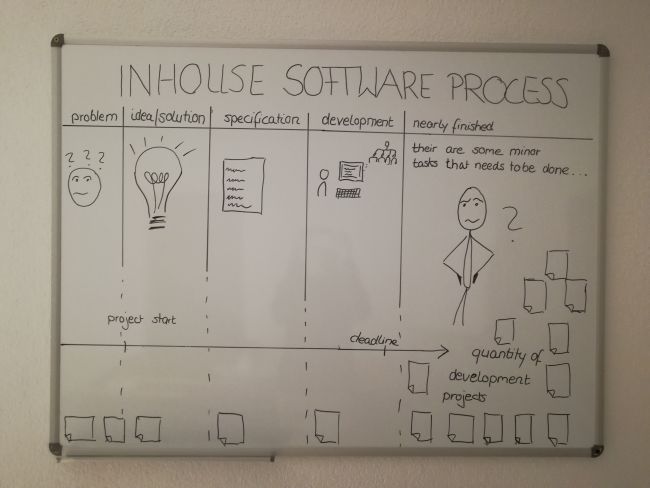 Based on our experience in developing communication solutions, we have decided to offer some standard products off the shelf – including the wM-Bus stack. For you as a customer there are clear benefits:
The stack is available directly or as a variant at very short notice and ready for immediate use.
Due to a variety of applications and customers, our wM-Bus Protocol Stack is well tested and easy to integrate.
With different license packages, software purchase is financially easy to plan and affordable even for smaller companies.
STACKFORCE provides professional support and additional services to the product, which saves your own resources and improves its predictability.
Please contact us for more information. And if we don't have you on the hook yet, check out our next post about our wM-Bus Stack: What's included? What standards does the stack implement? What are main features? …
---