LPWAN technologies are the means of choice when it comes to the cost-effective deployment of a large number of low-energy devices in a comprehensive range of products. The most common representatives of this technology approach are LoRaWAN®, mioty® and Sigfox. All three are united by the low-power, long-lasting battery operation of simple sensors over a long range. If you want to get started with an IoT project – whether for industry, logistics, agriculture or e. g. smart city – you have to get an overview of the common LPWAN technologies.
LPWAN TECHNOLOGIES – COST-EFFECTIVE, ENERGY-EFFICIENT AND A HIGH RANGE
LPWAN technologies transmit data over a very long range. This alone is nothing new, but the ranges are now reached with an electric power in the Miliwatt range. The installation and operating costs are also low. This enables cost-effective, spatially distributed applications with low data volumes and low requirements to the quality of service (QoS), especially regarding latency.
With little effort, districts or entire communities will be equipped with only one radio cell. Examples of the use of LPWAN technologies in the smart city area are the management of parking spaces, the targeted control of streetlamps or the level monitoring of waste collection containers, such as glass or paper containers. In large-scale industrial plants, LPWAN technologies are used e. g. in process automation, and in environmental technology e. g. in flood protection.
LPWAN TECHNOLOGIES – HIGH RELIABILITY AND DATA SECURITY
The LPWAN technologies LoRaWAN® and Sigfox are complementary in terms of the technical and commercial approach and can be used easily and flexibly. While LoRaWAN® is an open system that allows you to set up your own networks and has a well grown ecosystem, sigfox offers the complete network to which every user can connect their devices including seamless roaming across borders. mioty® is the latest of the LPWAN technologies. A major advantage of the mioty technology is the higher transmission stability even under very difficult and disturbed channel conditions. mioty® is also popular for large IoT projects with a large number of network nodes.
All LPWAN technologies are characterized by high data security with various encryption systems and are therefore also suitable for the transmission of sensitive data. Which LPWAN technology is the right one for you depends on the respective application as well as technical and commercial requirements. If you need assistance in choosing the right technology for your application, a suitable software to connect your products, or the necessary tools to verify the connection, don't hesitate to get in touch with STACKFORCE.
Interested? Then learn more about our LPWAN solutions: mioty Stack, LoRaWan Stack, Multi Stack. We will be glad to advise you in a personal interview.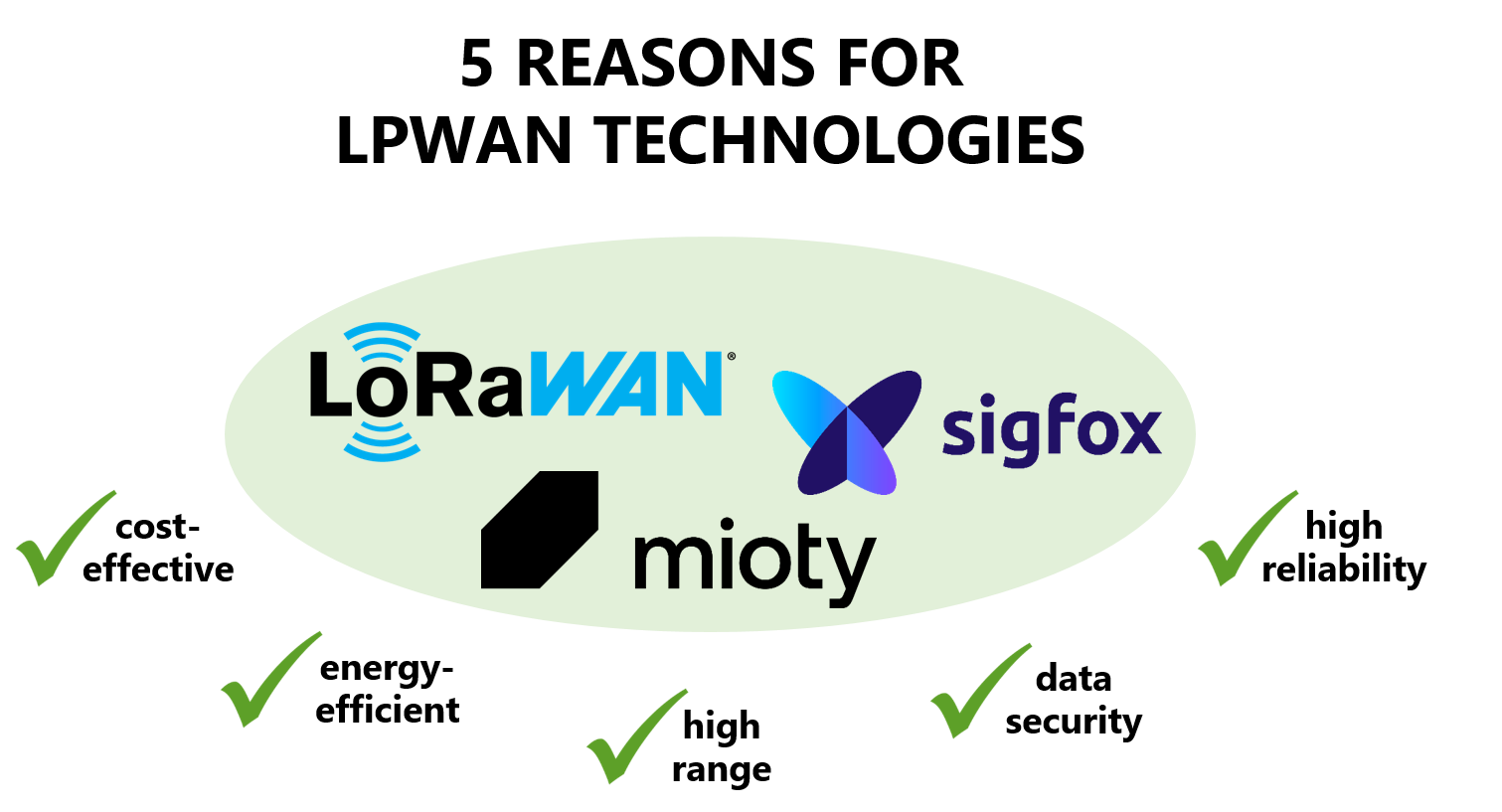 ---