Today, STACKFORCE GmbH can look back on several successful years in the development of embedded software. Company founder Prof. Dr.-Ing. Axel Sikora was already active in research & development before STACKFORCE was founded and still is today. What role does Prof. Dr.-Ing. Sikora play in the company, how does he describe the path to the founding of STACKFORCE and what is his summary after almost 10 years of STACKFORCE?
David Rahusen – CEO of the company – has been part of STACKFORCE GmbH since the company was founded. He has been developing the company for years and always has an eye on technological trends. How does he describe his path to STACKFORCE and what were significant milestones for him? In a short interview, there are interesting insights into the management of the company.
Prof. Dr.-Ing. Axel Sikora
Axel, you founded STACKFORCE GmbH. What was your idea that led to the founding of STACKFORCE? What were your goals in founding the company?
We had already founded a Steinbeis Transfer Center in 2002, which was active in the field of R&D services. As part of a project funded by the German Federal Ministry of Economics, we then developed a first implementation of our Wireless M-Bus Stack, which we then released as a product and which still represents an essential core of the IP at STACKFORCE today.

What was the idea for the company name? What is the meaning behind the name STACKFORCE?
Because of the layered structure of communication systems, we talk about protocol stacks. And here we are certainly a significant force – also on the international market.

You can still be found on the STACKFORCE website as the founder of the company. In what way do you currently support STACKFORCE?
David and the team do the operational business much better. But David and I are in close communication in terms of strategic direction and prioritizing development goals. I'm also involved in representation in the various corporate alliances and ecosystems and have my ear to the ground there.

If you were to sum up STACKFORCE GmbH, is the company today as you imagined it years ago?
Like many founders, we started STACKFORCE a bit naively. Over the years, we have joined forces to create a recognized technology company with a great team that works with global customers and partners and is commercially successful. I would never have dreamed of such a thing.

What are you wishing for the company in the future?
STACKFORCE has a unique portfolio with the truly unique ability to provide variable multi-stacks. There is still a lot of development work to be done in detail. And we definitely want to strengthen sales.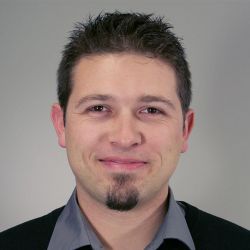 David Rahusen
David, you are the Managing Director of STACKFORCE GmbH. How did you come to STACKFORCE and how would you describe your beginnings at the company?
We laid the foundations of our relationship back when I was writing my diploma thesis, which was supervised by Prof. Sikora. In the thesis, I dealt with the connection of time recording systems (electronic time clocks) via radio. It quickly became clear that we had a similar way of thinking. So in 2013, Prof. Sikora approached me about his plan to found STACKFORCE GmbH. It sounded like a very exciting topic to me, and I've been on board ever since.

What was the most important milestone for you at STACKFORCE?
I would say there are a few milestones. But the most important ones are probably being the first major Wireless M-Bus stack licensee, being contracted by Semtech to develop the LoRaWAN Stack for end nodes, and being able to be a founding member of the mioty alliance.

Looking back, is there anything you would do differently than you implemented?
Well, there is always something, you never stop learning. But all in all, I think STACKFORCE is on the right track. We hear that from our partners and customers again and again.

As the person responsible for the strategic direction of the company, where do you see the company in 10 years' time?
Clearly, the world's leading provider of Protocol Stacks! In the field of LPWAN Stacks, we are already there today.

What new products do you see in STACKFORCE's portfolio in the coming years?​​​​​​​
We have a few things in mind for the future. At the moment, we are still working a lot in the area of individual software and solution development, but we are also already developing new software products. I can't talk about those yet, of course, but basically it's always about communication protocols, transmission technologies and network management.
Thank you for the interview!
---